The program helps those that are uninsured or under-insured and have HIV disease or AIDS.
Services include:
AIDS Drug Assistance Program (ADAP) Eligibility
Dental Care
HIV/AIDS Prevention Services
Pharmacy services
Service Location
205 NW 6th Avenue
Pompano Beach, FL 33060
United States
Provider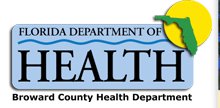 The mission is to protect and promote the health of all residents and visitors in Broward County. Please call for more info.
Public Email
CustomerService@broward.org
Address
780 S.W. 24th Street
Ft Lauderdale, FL 33315
United States