Health insurance for children from birth through age 18. When you apply for the insurance, Florida KidCare will check which part your child may qualify for based on age and family income.
Services covered:
Check-ups and shots
Dental
Doctor visits
Emergencies
Hospital
Mental health
Prescriptions
Surgery
Vision and hearing
Please call for more information.
Service Location
780 S.W. 24th Street
Fort Lauderdale, FL 33315
United States
Provider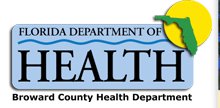 The mission is to protect and promote the health of all residents and visitors in Broward County. Please call for more info.
Public Email
CustomerService@broward.org
Address
780 S.W. 24th Street
Ft Lauderdale, FL 33315
United States