Charlotte County Homeless Coalition offers help with rent and utilities. Funding is offer to keep people in their own homes. Past due and deposits for utility bills, such as electric and water are available. Past due rent help with possibility of eviction is also available. Help is offered from Monday through Friday, from 9 AM to 5 PM. Please call or visit website for more information.
Service Location
1476 Kenesaw St., Port Charlotte, FL 33948
Port Charlotte, FL 33948
United States
Provider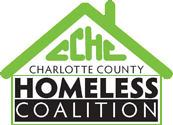 CCHC offers shelter and temporary housing. They also provide food and utility help.
Public Email
Angela.Hogan@cchomelesscoalition.org
Address
1476 Kenesaw Street
Port Charlotte, FL 33948
United States