Deaf and Hard of Hearing Center offers equipment on long-term loan with Florida residents. Residents must be hard of hearing, deaf, deaf/blind, or speech challenged. The equipment is offered at no charge to the consumer.
Equipment offered include:
TTY's
Volume/Tone Control Phones
Volume/Visual Phone Signalers
Please call for visit website for more information.
Service Location
1860 Boy Scout Drive
Suite B208
Fort Myers, FL 33907
United States
Provider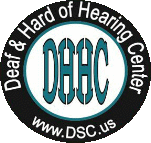 Deaf Service Center of Southwest Florida offers the following:
Advocacy services
Community education
Family services
FTRI telephone equipment loan program
Information and referral
Interpreting services
Job assistance
Address
1860 Boy Scout Drive
Ft Myers, FL 33907
United States