Second Harvest of the Big Bend provides healthy food and other needed items for neighbors in need. This is to address food insecurity and to relieve emergency and crisis situations. Please call or visit website for more information.
Services include:
Food Bank Operations
Senior Grocery Program
Child Nutrition Programs
Mobile Pantry
Commodity Supplemental Food Distribution
Disaster Relief
Emergency Food & Shelter Program
Service Location
4446 Entrepot Blvd
Tallahassee, FL 32310
United States
Provider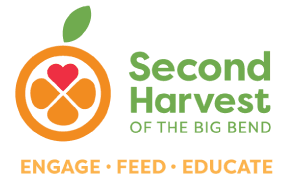 Second Harvest of the Big Bend is a non-profit started to address the urgent problem of hunger in the community. The group's mission is to feed hungry, food insecure people in the Big Bend region of North Florida. The group also works to educate and engage the community in the fight to end hunger. They are the region's primary source for charitable food. Second Harvest acts as a storage and distribution depot for over 149 smaller, front-line agency partners. These partners are spread across eleven counties. Please call of visit the website for more information.
Address
4446 Entrepot Blvd
Tallahassee, FL 32310
United States