Operation Homefront helps military families and veterans with housing.
Housing options include:
Transitional Housing (Apartments)
Permanent Homes for Veterans
Transitional Homes for Veterans
Transitional Housing (Villages)
Please call 1.877.264.3968, e-mail, or visit website for more information.
Service Location
731 Peachtree St NE
Suite A
Atlanta, GA 30308
United States
Provider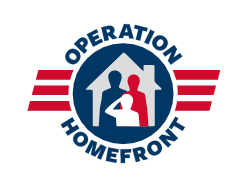 This agency gives emergency financial and other help to people in the service. Applications are done online.
Please see the website for more information.
Contact: 1.800.722.6098
Services include:
Auto repair
Eye care
Financial help
Help with food
Help with moving
Home repair
Public Email
Florida@operationhomefront.org
Address
1355 Central Parkway S Suite 100
San Antonio, TX 78232
United States