WIA stands for Workforce Investment Act. Its goal is to build a strong workforce that employers need. It provides training opportunities in high-demand occupations.
Please check the website for availability and requirements.
Service Location
3526 9th Street West
Bradenton, FL 34205
United States
Provider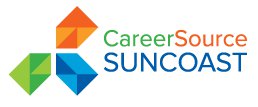 Suncoast Workforce is a nonprofit organization. They offer a range of services to assist those in their search for employment.


Assist with résumé writing and interviewing techniques
Connect local businesses with qualified employees
Offer educational workshops to sharpen job search skills
Offer quick links to the most up-to-date job market research
Provide access to a statewide database of job openings
Suncoast Workforce is open Monday through Friday, from 8am to 5pm (4pm to 5pm by appointment only).
Address
3660 North Washington Boulevard
Sarasota, FL 34234
United States