They offer food and clothing to those in need. Call or walk in.
Hours:
Mon-Fri 9:00am - 12noon
Wednesday evenings 5pm - 7:00pm
Service Location
3100 26th Street West
Bradenton, FL 34205
United States
Provider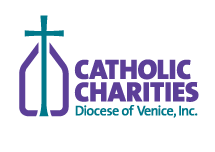 Catholic Charities Diocese of Venice, Inc. provides help to those in need. Programs and services are offered in the ten-county area of Southwest Florida.
Programs & Services:
Adoption
Adult Education
Benefit Applications
Clothing
Counseling
Disaster Response
Early Education
Financial Assistance
HIV/AIDS Services
Housing Counseling
Housing and Shelter
Human Trafficking Victim Assistance
Immigration Services
Mothers and Children
Refugee Services
Senior Services
The Sugar Bowl Fund
Youth Education and Mentoring
Public Email
info@catholiccharitiesdov.org
Address
1000 Pinebrook Road
Venice, FL 34284
United States