Better Way of Miami, Inc. provides three separate treatment programs.
Day/Night Treatment – Clients may continue to reside at Better Way East. They may also move to another Better Way sponsored housing Program. If not, they can reside in local halfway houses or shelters, or with family members. When they aren't searching for employment, working, or attending school, they attend this intensive outpatient rehabilitation program. It is offered in the evening and during the day.
Outpatient Treatment – The ultimate goal of the Outpatient Treatment Program is long-term abstinence from drugs and alcohol. This is done through treatment planning. Group and individual sessions with each person will also be done. They will help them learn how to sustain sobriety through the 12-Step Recovery Model.
Residential Treatment – This is the most intensive program. It helps the addicted person to accept their addiction. It helps them break denial and adapt to the lifestyle among other recovering addicts. The client and the counselor / case manager will figure out areas needing change. Together they will develop plans to address them. The client is given a thorough grounding in 12 Step recovery.
Please call or visit website http://www.bwom.org/index.php/treatment-2 for more information.
Service Location
800 NW 28th Street
Miami, FL 33127
United States
Provider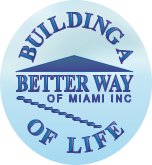 Better Way of Miami, Inc. is a non-profit health care facility. They provide long term treatment programs for those with drug and alcohol addictions. They also provide residential programs. Better Way is an approved Medicaid provider. Funding is also available for homeless.


Day/Night Treatment
Outpatient Treatment
Partners for Homes Program
Residential Treatment
SRA (Sponsor-based Rental Assistance)
SRO (Single Room Occupancy Rental Assistance Program
The Access Program
Address
800 NW 28th Street
Miami, FL 33127
United States