The NFCAA has a Family Self-Sufficiency Program. This program provides a comprehensive and holistic approach to services for entire families. It empowers individuals to actively pursue a better life. And obtain employment that pays a living wage. The case plans are tailored to each customer. These case plans are designed to address barriers to self-sufficiency. The ultimate goal of the program is to end the dependence on outside assistance for each family. Please call or visit the website for more information.
Baker County Office
96 West Lowder Street
Macclenny, Florida 32063
904.259.4481
Clay County Offices
321 Walnut Street
Green Cove Springs, Florida 32043
904.297.7500 ext. 3333
1543 Kingsley Ave
Suite 10
Orange Park, Florida 32073
904.592.4838 ext. 201
Duval County Offices
Emmett Reed Center
1093 West 6th Street
Jacksonville, Florida 32209
904.632.1470
Robert F. Kennedy Center
1133 Ionia Street
Jacksonville, Florida 32206
904.632.1461
Flagler County Office
703 East Moody Blvd
Suite 4
Bunnell, Florida 32110
386.313.2506
Nassau County Office
1303 Jasmine Street
Suite 100
Fernandina Beach, Florida 32034
904.261.0801
St Johns County Office
1300 Duval Street
St. Augustine, Florida 32084
904.824.0978
Service Location
302 Reid Street
Palatka, FL 32177
United States
Provider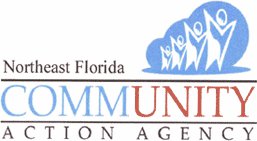 The Northeast Florida Community Action Agency is a driving force to combat poverty. The agency works to create access and opportunities for the most vulnerable residents. They are working towards improving the future. They do this by building communities in which all people have a chance to thrive. The services provide a comprehensive and holistic approach. And are for the entire family. Please call or visit the website for more information.
Address
4070 Boulevard Center Dr
4500 Building, Suite 200
Jacksonville, FL 32207
United States