This agency helps those in need. They offer basic needs help such as financial, food, prescription and housing. Clients can be referred to other agencies as needed. Please call or visit website for more information.
Services Include:
Adoption Services
Bridges to Circles
Christmas Connections
Counseling
Disaster Relief
Emergency Assistance
Food Pantry
Health Professions Opportunity Grants (HPOG)
Immigrations Services
Mental Health Services
Refugee Services
Shelters
Twice Treasured Thrift Stores
Veteran Support (SSVF)
Additional locations:
3128 E. 11th Street
Panama City , Florida
32401
United States
850.769.5379
1 North C Street
Pensacola, Florida
32502
United States
850.436.6420
11 First Street Southeast
Fort Walton Beach, Florida
32548
United States
850.244.2825
Service Location
1815 N 6th Ave
Pensacola, FL 32503
United States
Provider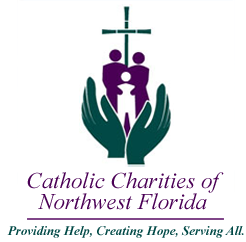 Catholic Charities of Northwest Florida is a nonprofit organization. They help those in need. They offer help to counties in the Florida Panhandle. No one is turned away, and help is offered to anyone with a need. The help given is available in multiple languages.
Services Include:
Adoption
Emergency Assistance
Food Assistance
Immigration Services
Matthew's Nursery
Pregnancy Services
Project Rachel
St. Barnabas House
Address
1380 Blountstown Hwy
Tallahassee, FL 32304
United States