This agency provides domestic violence services. They also provide help for sexual assault. Please call for more information and help.
Toll Free 24/7: 1.866.875.7983
Service Location
1153 US Highway 41 NW Ste.3
Jasper, FL 32052
United States
Provider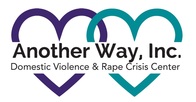 This agency helps victims of all types of violence. They deal with sexual battery; child physical and sexual abuse; domestic violence; elder abuse; stalking; human trafficking victims. They take calls 24 hours a day. Please visit the website or call for more info.
Services include:
Crisis Counseling
Crisis Hotline
Emergency Cell Phone
Follow-up Contact
Group Counseling
Individual Counseling
Support Group
Shelter/Safe House
Transitional Housing
Transportation
Victims Compensation Claims Assistance
Public Email
adm@anotherwayinc.net
Address
P.O. Box 1028
Lake City, FL 32056
United States