Catholic Charities of Northwest Florida helps those in need within the community. Many services are offered to help.
Services include:
Adoption Services
Christmas Connection
Emergency Assistance
Food Assistance
Immigration & Refugee Services
Matthew's Nursery
Pregnancy Services
Project Rachel
St. Barnabas House
Please call or visit website for more information.
Other locations include:
Panama City Office
3128 East 11th Street
Panama City, FL 32401
850.763.0475
Fort Walton Beach Office
11 First Street SE
Fort Walton Beach, FL 32548
850.244.2825
Pensacola Office
P.O. Box 6330
Pensacola, FL 32503
850.435.3516
Service Location
1380 Blountstown Highway
Tallahassee, FL 32304
United States
Provider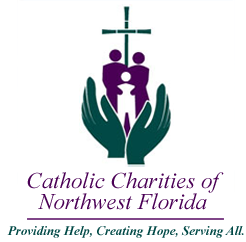 Catholic Charities of Northwest Florida stands ready to respond to the needs of our community and continues to provide assistance and services with compassion, dignity, and kindness.
Address
P.O. Box 6330
Pensacola, FL 32503
United States