Lutheran Services Florida provides the Ryan White Title II AIDS Program. This program is for people living with AIDS. The goal is to improve the quality and availability of health care and support services for people living the HIV disease.
The LSF Ryan White Title II Program provided qualified individuals with referrals to healthcare professionals and other services including:
Case Management Services
Dental Care
Emergency Assistance
Housing Assistance
Medical Care
Mental Health Assessment and Treatment
Nutrition Counseling
Transportation Assistance
Call for more information.
Service Location
4610 West Fairfield Drive
Pensacola, FL 32506
United States
Provider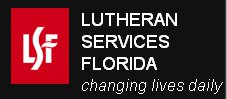 This agency provides many services to the elderly, children and families, and refugees. Please see the website for more details.
Adult Services
Elderly & Disabled Guardianship Program
Ryan White Title II AIDS Program
Children and Family Services
Child Care Food Program
Counseling Programs (CINS/FINS)
Early Head Start/Head Start
Housing
Youth Shelters
Refugee Resettlement
Employment for Refugees, Homeless
Florida Covering Kids and Families
Immigration Services
Address
3627 West Waters Avenue
Tampa, FL 33614
United States