The Center for Building Hope gives free information, programs and services. They help cancer patients, caregivers and family members. They connect them with others who are going through the same or similar experience.
Programs & Services:
Couples & Cancer
Exercise Programs
Horticultural Therapy
Individual Counseling
Networking Groups
Programs for Children
Support Groups for Cancer Patients
Support Groups for Caregivers, Friends and Families of Cancer Patients
Workshops
Contact for more information.
Service Location
5481 Communcations Parkway
Sarasota, FL 34240
United States
Provider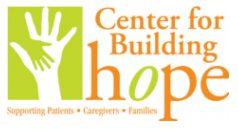 The Center for Building Hope gives free information, programs and services. They help cancer patients, caregivers and family members. They connect them with others who are going through the same or similar experience.

Programs & Services:
Couples & Cancer
Exercise Programs
Horticultural Therapy
Individual Counseling
Networking Groups
Programs for Children
Support Groups for Cancer Patients
Support Groups for Caregivers, Friends and Families of Cancer Patients
Workshops
Address
5481 Communications Parkway
Sarasota, FL 34240
United States