The Charlotte County Homeless Coalition provides hot meals daily. Dinner is served from 5 PM to 6 PM every day. Please call or visit website for more information.
Service Location
1476 Kenesaw Street
Port Charlotte, FL 33948
United States
Provider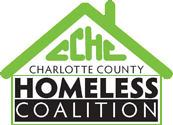 CCHC offers shelter and temporary housing. They also provide food and utility help.
Public Email
Angela.Hogan@cchomelesscoalition.org
Address
1476 Kenesaw Street
Port Charlotte, FL 33948
United States