This program offers employment training services and resources. Call for more information.
Additional Location:
1020 Cultural Boulevard
Cape Coral, FL 33915
239.673.8591
Service Location
4150 Ford Street Ext
Fort Myers, FL 33916
United States
Provider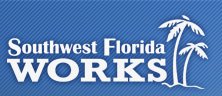 The Southwest Florida Workforce Development Board operates Career Centers that are designed to provide access to:
Education
Employment
Training
From different programs and providers at a single location.
Address
9530 Marketplace Road
Fort Myers, FL 33912
United States