Habitat ReStore takes all kinds of donations for resale. They take furniture, home decor items and even building supplies. They also take cars, boats and RVs. They do not take clothing, baby clothes, mattresses or appliances over 10 years old. Please see the website for a complete list of what they take and do not take.
They have a truck available for pick-up.
The proceeds from sales go toward buying more building supplies for the next Habitat house.
Service Location
39 Eglin Pkwy SE
Fort Walton Beach, FL 32548
United States
Provider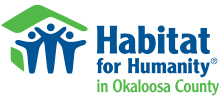 Habitat for Humanity Okaloosa County is dedicated to eliminating substandard housing locally and worldwide through constructing, rehabilitating and preserving homes; by advocating for fair and just housing policies; and by providing training and access to resources to help families improve their shelter conditions. Habitat for Humanity was founded on the conviction that every man, woman and child should have a simple, durable place to live in dignity and safety, and that decent shelter in decent communities should be a matter of conscience and action for all.
Address
39 Eglin Pkwy SE
Fort Walton Beach, FL 32548
United States