Alliance for Independence offers programs to adults with disabilities. They help with training, basic life skills, classes, and transportation. Services vary by program. Please call or visit website for more information.
Service Location
1038 Sunshine Drive East
Lakeland, FL 33801
United States
Provider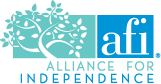 The Alliance provides:
Business Resources
Community Orientation
Education
Residential Services
Skills Training
Traning
Please call for more info.
Address
1038 Sunshine Drive East
Lakeland, FL 33801
United States