This church has a food pantry. It is open every Monday, Wednesday and Thursday from 10am to 1pm. Please call for more information.
Service Location
700 North Citrus Avenue
Crystal River, FL 34428
United States
Provider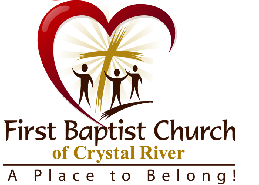 This church offers several ministries and opportunities for worship. It also provides a food pantry. Please call for more details.
Address
700 North Citrus Avenue
Crystal River, FL 34428
United States