Spherion will place you in a job that matches your skills. They offer positions as receptionists, administrative personnel, customer service, assembly and more. Please call for more information.
Service Location
33 Ponce de Leon Blvd.
Suite 102
Brooksville, FL 34601
United States
Provider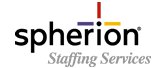 We offer temporary and full-time job opportunities. Call for more information.
Public Email
terinichols@spherion.com
Address
16340 Cortez Boulevard
Brooksville, FL 34601
United States