In Florida, the TANF (or Temporary Assistance for Needy Families) work program is called the Welfare Transition Program. It is run by the Florida Department of Economic Opportunity. The program helps welfare recipients move from welfare to work. The goal of the program places importance on work and self-sufficiency. And on personal responsibility. To meet these goals a variety of support services and programs were created. The funding came from both federal and state. There are requirements that must be met to participate in this program. Please call or visit the website for more information.
Support services may include the following:
Diversion Programs
Job Readiness
Job Training
Relocation Assistance
Severance Payments
Subsidized Child Care Referrals
Substance and Mental Health Treatment Referrals
Transportation Assistance
Service Location
107 East Madison St, Caldwell Bldg
Tallahassee, FL 32399
United States
Provider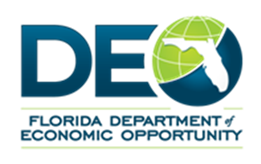 The Florida Department of Economic Opportunity helps the Governor. The help is to advance the state's economy. They give both administrative and program guidance for workforce programs. The offerings include workforce, and employment services. As well as welfare services. These services are delivered by the regional workforce boards across the state. Which is done through local CareerSource Florida centers. The programs and services help citizens and communities. They also help businesses and visitors to the state. Please call or visit the website for more information.
DEO Help Desk : 1.800.438.4128
Address
107 East Madison St Caldwell Bldg
Tallahassee, FL 32399
United States