Northeast Florida Community Action Agency helps low-income households with immediate and emergency home energy needs. Please call 904.362.8052 or visit website for more information.
All Locations:
Baker County
84 West Lowder Street
Suite B
Macclenny, Florida
32063
904.259.4481
Clay County
321 Walnut Street
Green Cove Springs, Florida
32043
904.297.7500 ext 3333
Clay County
1543 Kingsley Ave.
Suite 10
Orange Park, Florida
32073
904.592.4838 ext 201
Nassau
1303 Jasmine Street
Suite 100
Fernandina Beach, Florida
32034
904.261.0801
Putnam
1201 Madison Avenue
Suite 102
Palatka, Florida
32177
386.385.3954
Service Location
3314 Crill Avenue Suite 1-A
Palatka, FL 32177
United States
Provider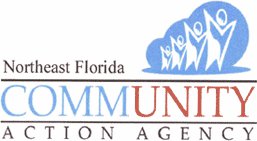 Collaborating with community partners to stabilize vulnerable households and empower families in Northeast Florida to achieve self-sufficiency through education, employment, and advocacy.
Public Email
contact@nfcaa.org
Address
4070 Boulevard Center Drive 4500 Building, Suite 200
Jacksonville, FL 32207
United States