Catholic Charities offer counseling. Counseling is give by licensed, professional clinical therapists. Counseling can be for individual, couples, family or group. The programs focus is on the mental health needs of the client. They accept insurance. They also offer a sliding fee scale based on the client's household income. Contact for more information.
May be able to help with:
Abuse
Aging
Anger
Anxiety
Conflict
Loss and transition
Relief from depression
Self-esteem
Substance abuse
Trauma
Service Location
5055 North Tamiami Trail
Sarasota, FL 34234
United States
Provider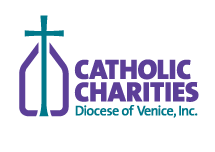 Catholic Charities Diocese of Venice, Inc. provides help to those in need. Programs and services are offered in the ten-county area of Southwest Florida.
Programs & Services:
Adoption
Adult Education
Benefit Applications
Clothing
Counseling
Disaster Response
Early Education
Financial Assistance
HIV/AIDS Services
Housing Counseling
Housing and Shelter
Human Trafficking Victim Assistance
Immigration Services
Mothers and Children
Refugee Services
Senior Services
The Sugar Bowl Fund
Youth Education and Mentoring
Public Email
info@catholiccharitiesdov.org
Address
1000 Pinebrook Road
Venice, FL 34284
United States