Peaceful Paths provides Emergency Shelter. This shelter is for people forced to leave their own community because it is no longer safe. The shelter is staffed with trained people who can provide emotional support. Crisis counseling and referrals are also available. The address provided is not shelter location. Please call or visit website for more information.
Service Location
2100 NW 53rd Avenue
Suite A
Gainesville, FL 32653
United States
Provider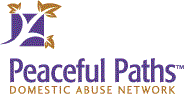 Peaceful Paths is an agency that helps victims of domestic abuse. They offer a range of services and programs to help.
Services include:
Helpline
Emergency Shelter
New Client Intake
Support Group
Crisis Counseling
Injunction Support
Child & Youth Programs
Violence Prevention Education
Economic Empowerment
Public Email
sherryp@peacefulpaths.org
Address
2100 NW 53rd Avenue
Gainesville, FL 32653
United States